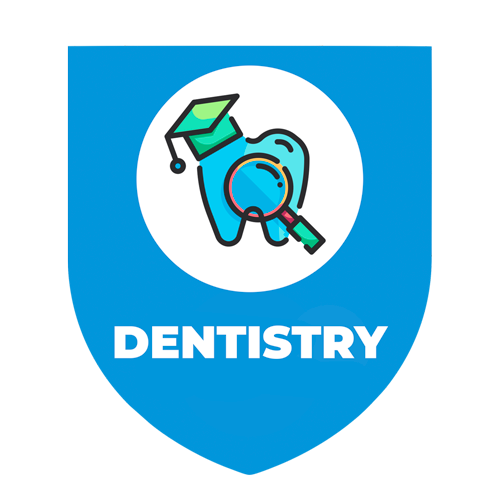 Dentistry
Course Description
The department of Bachelors in Dentistry- is designed to prepare specialists in a higher educational institution for the improvement of professional activities in governmental and private entities, public health care, state and executive branches, and other sectors. Additionally, it includes the main tasks of utilizing alternative methods of diagnosis and treatment in a wide spectrum to deal with the medical problems of patients. Development of Professional dental care and dispensary observation techniques (therapeutic and preventive, medico-social), organizing scientific research centers, and taking part in scientific production organizations are also included in the program.
The purpose of the educational program
Delivering comprehensive theoretical and practical knowledge and skills to students in fundamental, preclinical and clinical disciplines of medicine and elective courses; dentistry training.
The result
After mastering the five-year training program, graduates will receive a diploma as a dentist.
Graduates can continue their Master's degree in seven different specializations.
The educational program of Bachelor's degree:
In Years 1-2 students are taught biomedical subjects (Human Anatomy, Medical Chemistry, Medical Biology, Histology, Normal Physiology, Introduction to Medicine, Restorative Dentistry, etc.).
In Year 3 students are taught pre-clinical and clinical sciences (Pathological Anatomy, Pathological Physiology, Pharmacology, Clinical Endodontics, Oral Cavity Surgery, Prosthetics with Removable Teeth, Orthopedic Dentistry, etc.).
In Years 4-5 students are taught the subjects of specialist studies (Orthodontics, Periodontology, Face-jaw Diseases and Injuries, Face-jaw Surgery). 
After professional training graduates in the field of Dentistry graduates can continue their Master's studies and Clinical Residency in Children's Therapeutic Dentistry for a period of not less than two years:
Therapeutic Dentistry
Orthopedic Dentistry
Surgical Dentistry
Face-jaw Dentistry
Orthodontics
Children's Surgical Dentistry
It is also possible to carry out scientific research within established organisations as an independent researcher.
 
Entry requirements
You can start your desired study programme at Kimyo International University in Tashkent by completing the following requirements.
First you need to register on the admission.kiut.uz website.
Required documents for admission:
Passport copy (color)
A copy of the diploma / certificate from the lyceum / college / high school (color)
An electronic photo taken within the last 3 months - 3.5 cm × 4.5 cm
All the necessary documents listed above must be uploaded to the admission.kiut.uz website in electronic (scanned) form (the size of each document should not exceed 2 MB, JPEG or PNG format).
An official IELTS/TOEFL foreign language proficiency certificate, if available, is welcome and required for group study in English.
The subjects of entrance examinations are Biology, Chemistry and Mother Tongue and Literature.