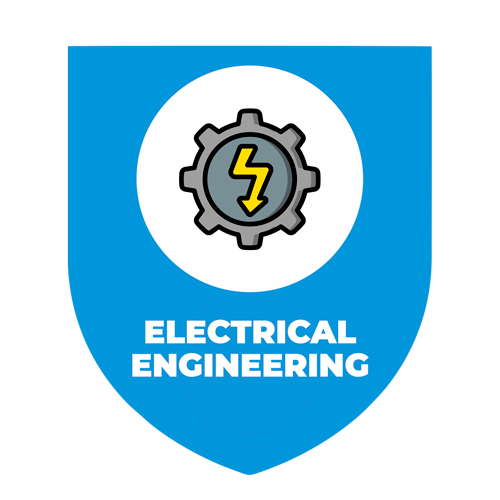 Electrical Engineering
Electrical engineering is an engineering field that explores the application of electrical phenomena through electromagnetic field and circuit theory. Particular objects of interest to this sector are electrical power systems, electrical machines and drives, electronic energy converters, electrical systems for transport, electrical and electronic measurements, circuit theory and electromagnetic compatibility. The Electrical Engineering program covers all subjects required to teach students electrical engineering students.
Currently, social and industrial growth is largely based on the availability of energy in a form that can be easily converted into light, heat, motion, electromagnetic waves for data transmission and remote processing, electrochemical activity. Electricity is the most efficient way of converting energy from primary energy sources and transporting it to remote locations. Its features make electricity unique to many activities in daily life, from domestic, industrial or service.
Electricity is easy to manage and environmentally friendly. In our country, more than a third of the energy consumed is converted into electricity before its final use.
Electrical engineering is inherently multidisciplinary and covers a wide variety of different fields of application. These include electrical machines, electronic energy converters, transformers, electrical transmission and distribution networks, electrical systems for household and industrial applications, industrial automation, electrical traction, heavy metallurgical industry, electromagnetic compatibility.
A bachelor's degree is required for the production, transmission, distribution and rational and sustainable use of electricity. The Electrical Engineering graduate has the ability to design and operate electrical systems and devices, as well as analyze and process data.
Also, the ever-increasing requirements to complex and interference-sensitive equipment (such as, for example, data centers) require an ever better power supply.
 
Entry requirements
You can start your desired study programme at Kimyo International University in Tashkent by completing the following requirements.
First you need to register on the admission.kiut.uz website.
Required documents for admission:
Passport copy (color)
A copy of the diploma / certificate from the lyceum / college / high school (color)
An electronic photo taken within the last 3 months - 3.5 cm × 4.5 cm
All the necessary documents listed above must be uploaded to the admission.kiut.uz website in electronic (scanned) form (the size of each document should not exceed 2 MB, JPEG or PNG format).
An official IELTS/TOEFL foreign language proficiency certificate, if available, is welcome and required for group study in English.
The subjects of entrance examinations are Mathematics and Physics.