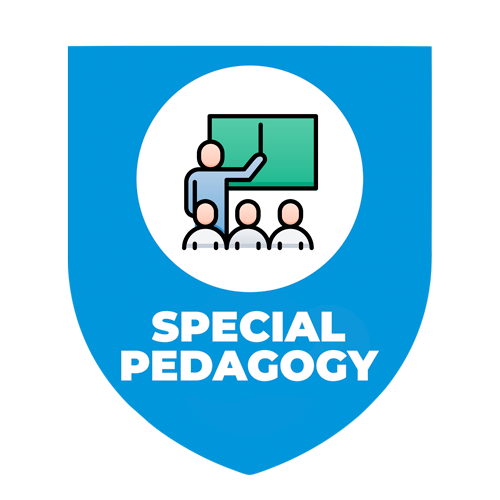 Special Pedagogy
The Special pedagogy (Defectology) - is prepared the necessary teaching staff for who healthy and children with disabilities.  There are included four areas in the Special pedagogy which will be prepared for education.
These are as follows:
Oligophrenopedagogy (education for children who have intellectual disabilities),
Surdopedagogy (education for children who have hearing impairments), 
Tiflopedagogy (education for children who have a defect in vision), 
Logopedia (education for children who have speech defects). 
Nowadays, the Special pedagogy has a wide range of possibilities, this is given to graduate students are intended for healthy children will be able to operate in the position as therapists in preschool institutions (kindergartens), as defectologists in singular preschools, as therapists in general education schools, as pathologists in superior schools and boarding schools, as therapists in the family polyclinic. 
In accordance with the Decree of the President of the Republic of Uzbekistan No. PP-4860 dated on October 13, 2020 year, the Concept for the Development of Inclusive Education in the Public Education System for 2020-2025 years is developed for the purpose of creating an inclusive education system for children with special training needs, guarantee and ensure their right to education. 
According to the Concept, the graduates of the Special pedagogy will be able to work as resource teachers in general education schools. The newly opened Faculty of Special Pedagogy is located at the Kimyo International University in Tashkent is doing its best to educate its students, providing them with theoretical and practical knowledge by highly qualified specialists and taking care of the future of each student.
 
Requirements for submitting documents
You can start your desired study program at Kimyo Tashkent International University by completing the following requirements:
First, you need to register on the admission.kiut.uz website.
Required documents for admission:
Copy of passport (color).
A copy of the diploma/certificate from the lyceum/college / high school (color).
An electronic photo was taken within the last 3 months - 3.5 cm × 4.5 cm.
All the necessary documents listed above must be uploaded to the admission.kiut.uz website in electronic (scanned) form (the size of each document should not exceed 2 MB, JPEG, or PNG format).
An official IELTS/TOEFL foreign language proficiency certificate, if available, is welcome and required for group study in English.
The subjects of entrance examinations are English and Biology.